Love & Hate of the Roland MC-202 (Rack)
| | |
| --- | --- |
| | Had one (free) back in 1992 (in HK). It's small, nifty and easy to use. Usual Roland analogue sounds, handy PWM, CEM chip design... |
| | |
| --- | --- |
| | Analogue Solution Modular Upgrade already simplified lots of modding, since most are nearly covered. Lots of sockets (maybe far too many)! |
| | |
| --- | --- |
| | Many sliders/knobs. In a way it's good, but also a hassle for doing rackmounting - as I'd need to de-solder all of them and re-solder them to new pots on the front panel... |
| | |
| --- | --- |
| | As with other rackmounting... it's now difficult to get all the pots in the same type/same make that can cover all different values used... Just wish there can be some manufacturer that does all values of pots, small and cheap.... |
| | |
| --- | --- |
| | So many wires with the Analogue Solution Modular Upgrade... a bit of a wire jungle mess... |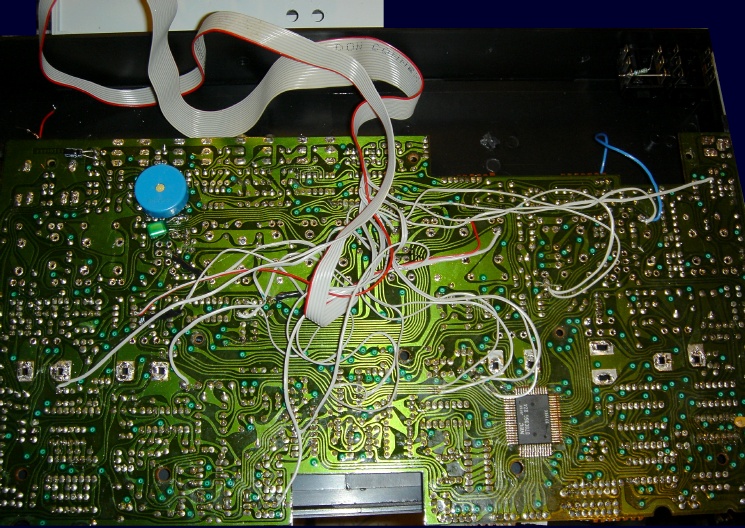 | | |
| --- | --- |
| | Doing it in a 1u rackmount is kinda tight/cramp... but it just about fits.... |
When I first got this MC-202, the VCF LFO MOD slider was not working.
The MOD VC IN wasn't working.
The LFO Delay didn't seem to have an effect.
The VCF CV In and VCA CV In were wired in the wrong order, so VCA CV In was actually the VCF CV In... etc.
| | |
| --- | --- |
| | Some of these I've fixed, some I'm not sure - VCF LFO MOD is now a little funny... and the LFO Delay still seems to do bugger all.... |
| | |
| --- | --- |
| | When I was writing up these pages, I realized a few mistakes in this MC-202 Rack. Most mistakes were corrected, but some I really dunno, cos this 202 is still kinda funny, but hey, it's somehow unique ;) |