The DR-110 MIDI Kit(s)
There exists (to my knowledge / to date) TWO DR-110 Midi Kits other than general Midi-to-Drum Trigger mods.
Dtronics (Netherlands) - M110 Midi Kit for the DR-11o
An ultra small DR-110 Midi Kit. This can actually fit inside the DR-110.
Accent if velocity = 127, Assignable Midi Channel (via the STOP Button or SysEx), Fixed GM Drum Notes Mapping.
Costs only 50 Euros + shipping.
Analogue Solutions Internal Drum Midi Kits
Tom C. has finally offer these small Midi Kits for drum machines, since April 2004.
Available for the DR-110, but it has to be external due to the compact size of the DR-110!
Accent for velocity > 80, Assignable Midi Channel, Fixed Midi Notes Mapping, Midi to Sync.
However, it is not cheap, costs £99

(+VAT) fitted or

£

5

9

(+VAT) for the kit...
Or you can use other Midi-to-Trigger units such as ...
The Boss DR-110 needs negative triggers, so some modifications are needed for these Midi-to-Trigger units.
Notes on getting the correct triggering:
I have actually emailed Dave Magnuson ( Resonant Frequency ) and asked about how he got his trigger-ins done, but it seems he has since sold his DR-110. But this is what he wrote:
I actually used a V-trig to S-trig converter on my DR-110 module.
A few things you need to do: put a series capacitor between the input and the transistor...
you need to experiment with the value to get the correct pulse length, but start around .01uF or .1uF

Also, you'll need to check that your DR-110 v-trigger lines are still held to V+... with no input to the triggers each of them should read at around 6V (assuming 6V battery power).
If not you need a 100K pull-up resistor from the trigger line to V+
The best choice for Midi-fying the DR-110 is probably

the

Dtronics M110 Midi Kit.
This is quite good as it does not affect original functionality of the DR-110.
Since this is the only one that is small enough to fit inside the DR-110, s

o i actually ordered one for my DR-110

#

2.

The Dtronics M110 Midi Kit
M110 Package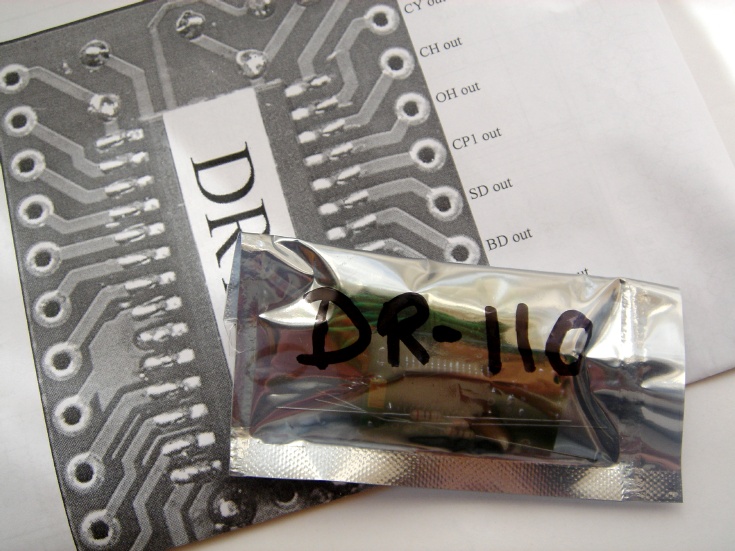 Package comes with printed manual (although pdf can be downloaded from their website).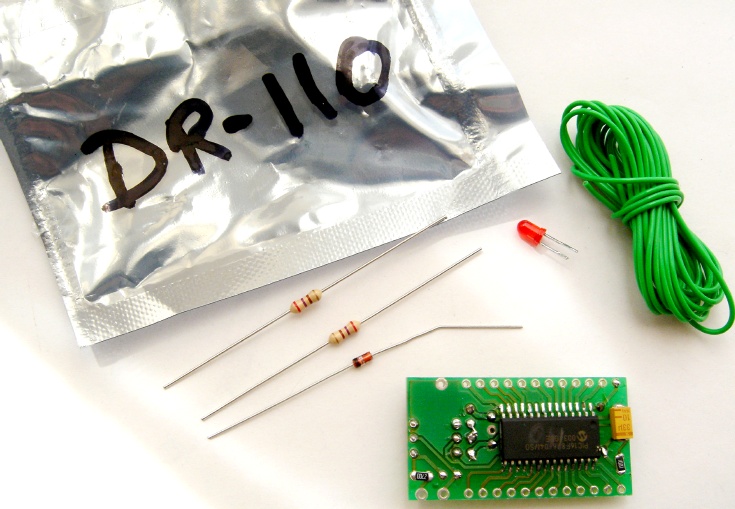 Package contains the M110 PCB, some wires, 2 resistors, 1 diode and an LED, nearly everything you need (except a Midi socket)...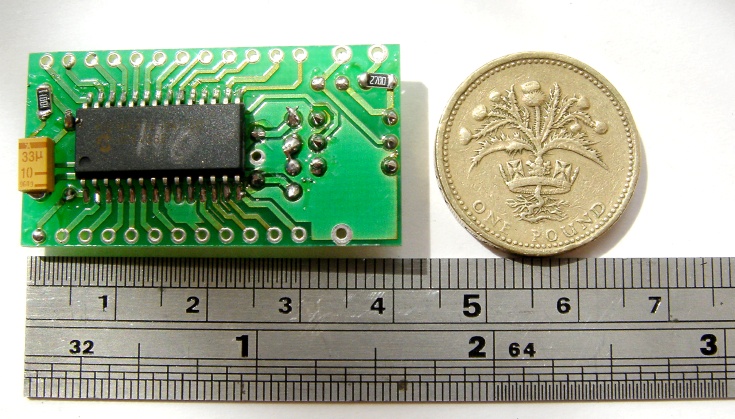 The PCB is so small ... no wonder it can fit just fit inside the DR-110 where there's so little available space...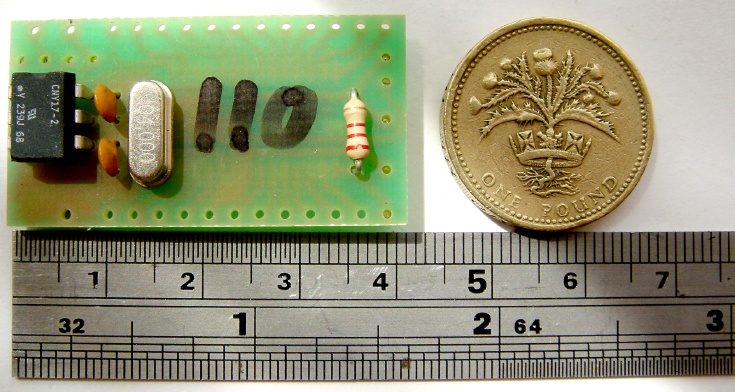 The PCB is very very compact, it uses SMD size PIC, has components on both sides: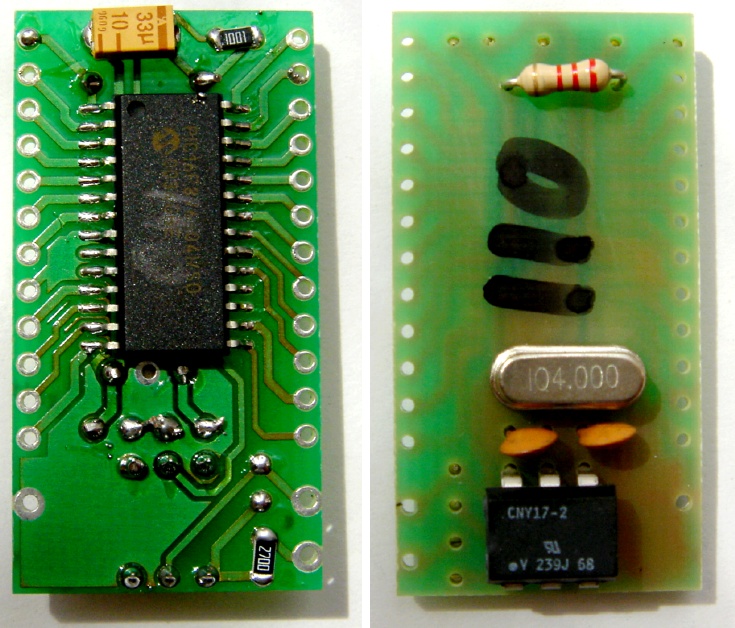 INSTALLATION
Installation is very straight forward, although care has to be taken when soldering al those wires, since the board is very compact.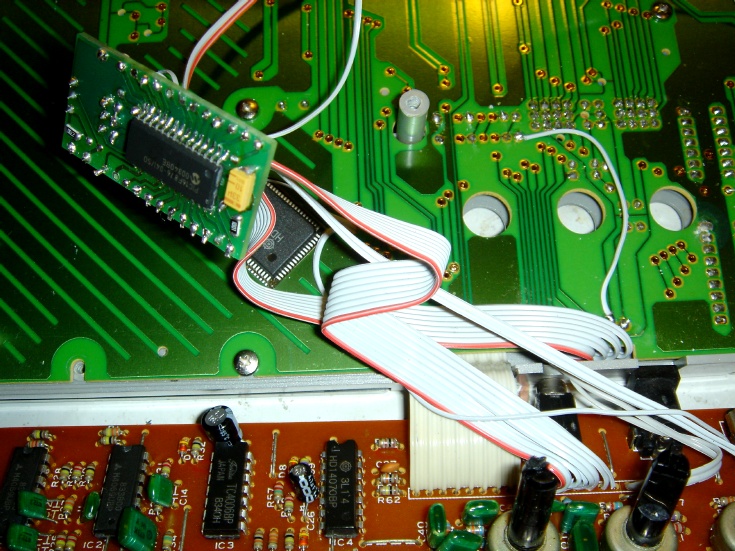 The MIDI Socket
One thing i really have to mention here tho.
Dtronics suggests you use the Accent Trigger Output socket and make a lead to convert that to a midi socket/plug.
This is because there is basically not much space left inside the DR-110 for mounting a Midi Socket.
However, I have actually found that you can actually install and mount a Midi Socket inside....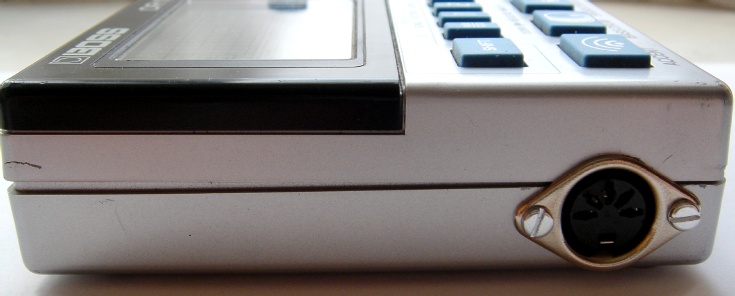 There is actually space next to the battery compartment where you can fit a Midi Socket: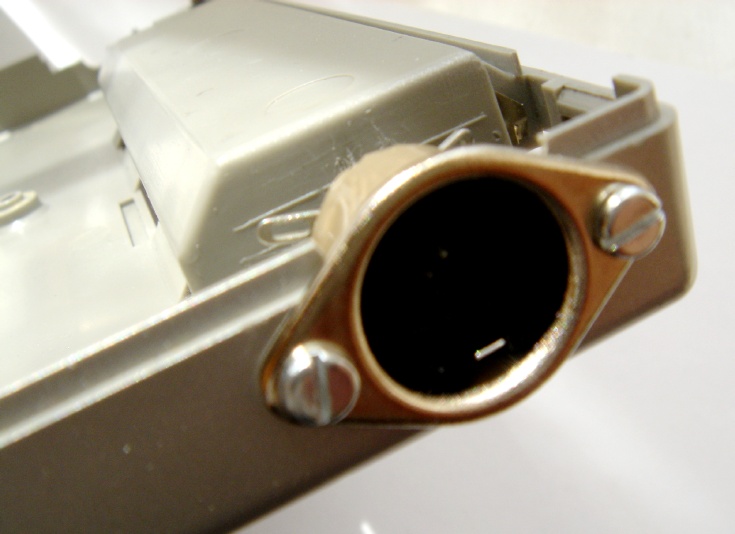 Drilling the hole is actually quite difficult as space is limited. Also, I couldn't use a hole cutter, as the space between is short. So i actually drilled a hole and carefully enlarged it with a pair of scissors going round it...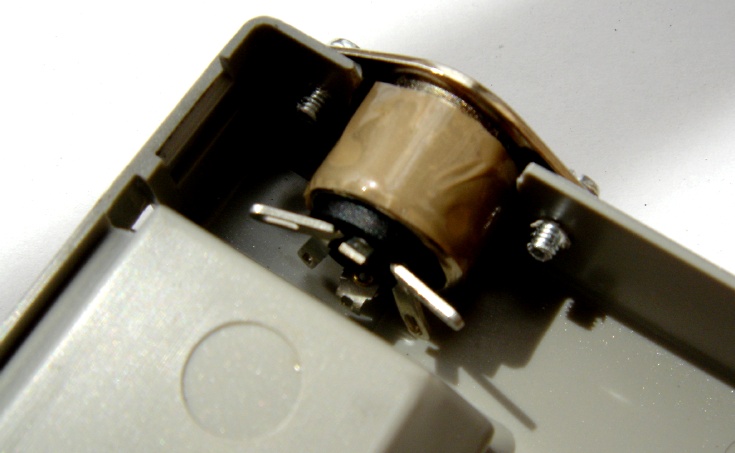 You'd have to bend or cut away the pins on the socket, but it can just about fit. In the image above, you can see i have bent the pins sideways...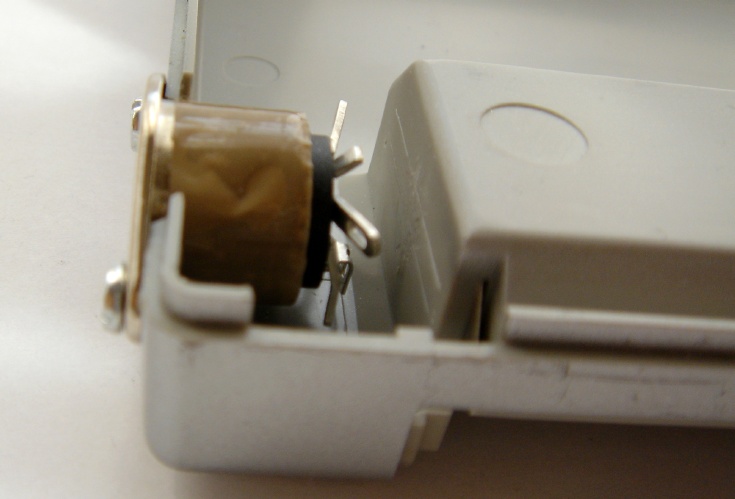 The plug is insulated by tape, just in case it might touch the PCB...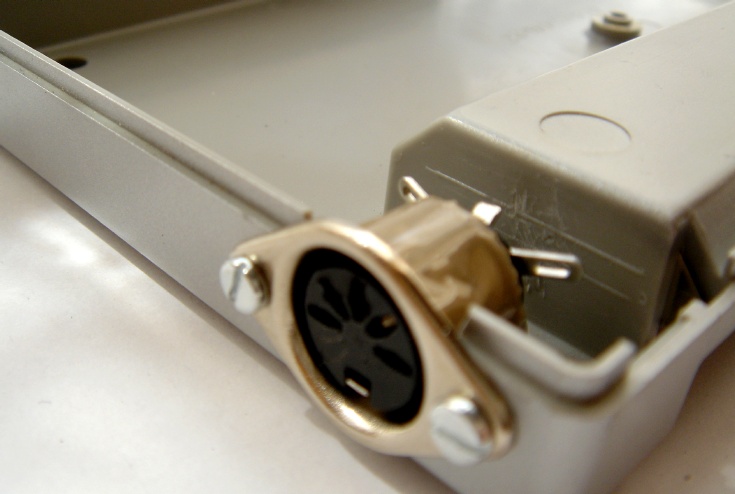 So it can actually be done.... no more conversion lead to be made, and no need to cut tracks for soldering the midi in to the accent trigger out....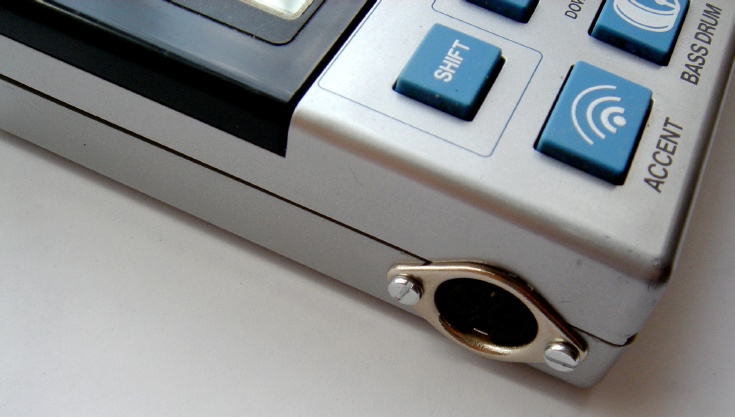 Fitting
It's tough, as it'll just fit in between the Voice PCB and the CPU PCBs...
MIDI LED can be mounted on the front as well.. It's pretty kool when done....
ISSUES
i have been experiencing some issues with the M110 kit tho.
Dtronics is very very helpful, answering emails and suggesting ways to correct the issue.
It's just that at the moment, with some midi out devices (eg USB Midi Interfaces), the M110 might not trigger correctly.
FIX
Change the 1k resistor on the M110 PCB to 2k2.